I try to do a year end review every year because I like to do it and it is fun to look back at how the year went.  I already know before even putting this one together that this year was probably my lightest on fishing and writing content in eight years.  The priorities in my life have shifted and although I'm not getting on the water as often I'm still having a good time.  This year was a busy one, hard to believe it is already over.  Free time comes at a premium now and fishing trips sure eat up a lot of it. It is safe to say I'm a pretty fair weather fisherman now.  Without further ado, 2014:
January – I was 2/3 on redfish trips in January, unfortunately that lone dud happened on a tournament day, which set the tone for my tournament fishing in 2014 – I didn't really dedicate the time necessary to compete and honestly it didn't bother me one bit.  I focused on having fun when I fished and each trip I took was just that, fun.  Now that fishing trips happen less I think they mean more, funny how that works.
February – My kayak fishing trip of a lifetime was in February when I got to tag along with Jim Sammons and crew to Panama.  Fishing in more than a foot of water was refreshing.  I got the nod in a roundabout way, but I'm really glad I was able to go as I doubt I'll ever be able to do something similar again.
March – When Spring rolls around in Louisiana and it gets to be shorts weather again it never fails that the kayak demo days and boat shows soon follow. Mardi Gras too. I fished a couple events in March, a redfish tourney down in St. Bernard and a new kayak event on Bayou St. John in conjunction with the City Park Big Bass Rodeo – nothing to show for in either, but they were good times.
April – If there is one thing I can talk about for hours it is sightfishing redfish from the kayak and that is just what happened at Pack & Paddle one day in April when John Williams asked me to come give a seminar. Hopefully everyone in attendance came away a little more knowledgeable on the subject. Paddlepalooza was also in April and was another success. BCKFC has their two big tournaments dialed in and I recommend anyone with a little interest in kayak fishing to try and attend. Got to see some new water as well when work had me up near Simmesport. I ended up catching a choupique on a fly that established the fly rod record for that fish in Louisiana – got to start somewhere.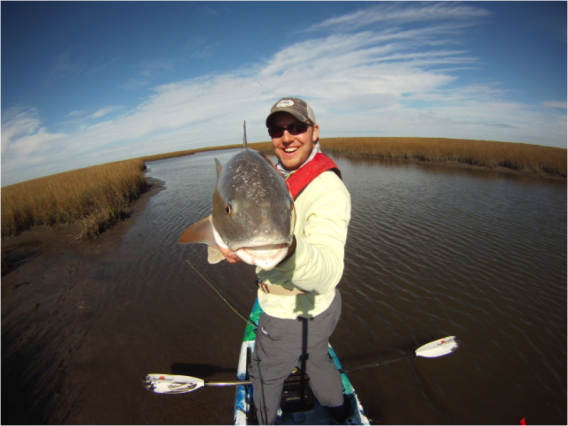 May – I entered the world of fiberglass fly rods in May with the arrival of a 3wt CGt. Put it to use on some neighborhood fish, it has been a lot of fun on the bass and cats. Fished the first Louisiana stop of the IFA kayak series. Pre-fishing went as planned, but tournament day was a bust.
June – I fished the Trout Challenge in June and caught a bunch of redfish, go figure. Hammered the bream in the neighborhood pond too, then trips became few and far between. I got a bit nostalgic talking about Blake's spotted bass record and did my own version of Facebook's "throwback Thursday" re-hashing my kayak ownership from day 1.
July – We vacationed down in St. John in July and had a really great time, pharyngitis though had me in pain for most of the trip, it was a major bummer. I gave Paul Lebowitz some of my video content in June and he put together a couple little videos that were published on the Kayak Fish site. It was cool to see my stuff somewhere other than here.
August – I made my way to the Northeastern part of Louisiana for the first time for work in August and found myself with time to kill for a day – of course I found somewhere to stretch the fly line. Followed that up with a slow day with Blake at an oxbow lake north of town.
September – It was obvious how things had changed come September as I made my first wade fishing trip of the year then. Spotted bass use to be my favorite target, now they are merely an afterthought, which is a shame because I really enjoy those trips. I also provided a tutorial on installing a Power Pole on the Cuda 14 with the new mounting bracket from YakAttack. It's a good thing I did as I have still yet to use the darn thing. Power Poles need power and I'm too stubborn to wire it up. They are supposed to have a battery pack for it available in the Spring – hopefully it will see the water after that.
October – I figured out in October that the neighborhood catfish have gotten to the point where they follow you around the pond waiting for you to feed them. They have become fat and domesticated and are really a blast on the glass rod – I'm not ashamed. I also made my way back to the Jackson factory in October, where I shared some musky water with Chris Funk and Josh Tidwell. It was a lot of fun and reminded me that it isn't always about catching fish. I did a poor job of following up that post with another about the Dealer Summit. In short we had a blast and my enthusiasm for kayak fishing, which was down a bit since June, was restored.
November and December – My cousin's brewery opened in New Orleans in November and if you like good beer they are worth checking out – Courtyard Brewery. Then I met up with some good dudes from Alabama to hang in Grand Isle and fish for some reds. Everyone caught fish on the trip and James and I had one of the most productive days fishing I think I've ever had. It was almost literally every cast. I also got around to posting about a hike I did in Jean Lafitte NHP, which is a beautiful park that is often overlooked in the New Orleans area.
That's it for 2014 and looking at the year in it's entirety it was actually pretty awesome. Before writing this I'm thinking that the year was somewhat of a dud, because I felt like in years past I had so much content. The quantity of the content may be down, but the quality is there – Panama, the Virgin Islands, big trout in Georgia, musky hunting in Tennessee – 2014 was badass, here's hoping 2015 rocks too!